Oct 24, 2007
A couple weeks ago I went up to Salt Lake to visit a friend and to see John Vanderslice play in Provo and SLC. I wish I'd taken more pictures, but I generally suck at remembering to take pictures....
Friday:
Arrived in Mormon country, drove down to Provo (hardcore Mormon country), hit thrift store #1, grabbed some food and proceeded to the venue. Had to wait in line awhile because the doors were pushed back cause the opening band was late getting in and needed food. In the meantime, there were plenty of LA-area douchebags around to remind me of home, further reminding me why i don't go to JV's LA shows and opt to go to San Diego instead. Finally get in, find a good seat with a nice view of the stage, good for taking pictures.....if I hadn't left my camera in the car (strike 1). The venue was pretty cool, reminded me of a smaller Mercury (aka the Parish) in Austin. JV was great as always....played a similar set to the San Diego show, including...
Kookabura
White Dove
Time To Go
Tablespoon of Codeine
Numbered Lithograph
Angela
Dear Sarah Shu
Trance Manual
Exodus Damage
The Tower
Up Above the Sea
Pale Horse
Underneath the Leaves
and for the "encore" Keep the Dream Alive unplugged in the crowd.
After almost everyone had left, JV took to the streets outside the venue and played You Were My Fiji by request since the band didn't know it. Yet another opportunity for pictures (strike 2).....THEN he went down the street to a gelato place and played Nikki Oh Nikki. I think the employees were really confused as to what was going on, but JV brought them business. He still had to buy is own gelato though. Oh...and yeah, another chance for pictures (strike 3, I suck).
On the way back to SLC, we picked up some Krispy Kreme doughnuts (which are hard to come by out there)...yummy
Saturday:
More thrift stores....picked up a polo, sweater, 2 belts, and a chain for the bear charm i got the last time I was in town. Jason's Deli for lunch...mmm......COME TO CALIFORNIA. I miss that place. I had greek food for the first time....yummy stuff. Then it was off to the venue for the show. This time I got in free as part of JV's merch crew. Hung out a bit before the show chatting with JV and selling stuff. After the show started I went to try to take some pictures. I had a shit angle, so this was the best i could do....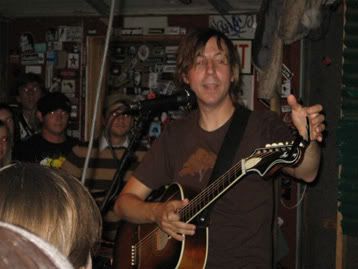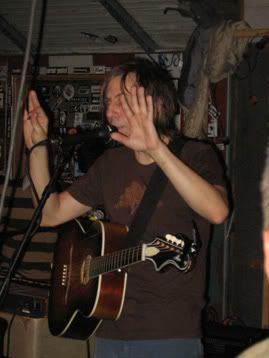 Another great show....basically identical setlist to the night before, except he played They Won't Let Me Run instead of some other song, and did Keep The Dream Alive and Nikki Oh Nikki as the in crowd "encore". I really wanted to hear The Parade again cause that's one of my favorites from the new album.
Handled the post show merch rush pretty well. Got a tote bag for myself. After, JV and Daniel Hart went to record a Daytrotter session, so I watched that from afar. I'll post a link when it's available.
From the merch table...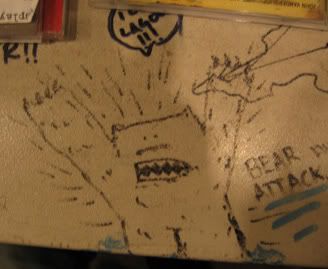 Sunday:
Went to the ghetto mall or the San Antonio mall as my friend likes to call it. It was actually really cool. it reminded me of the way malls were when I was younger and didn't despise them. Back before it was all Gap, Aberchrombie, Victoria's Secret and all the other bs. When the food courts were all random places instead of fast food chains. Had some yummy chinese food for cheap. SLC is pretty lousy on sunday because hardly anything is open. Went to Costco and got a churro and drove around for awhile before going to the airport.
It was lots of fun, especially seeing JV 2 nights in a row. reminds me of old times.